Stinging Insects
Stinging insects send more than 500,000 people to the ER each year. Learn how to protect yourself from these aggressive pests.
Bald Face Hornet
Resembling their yellow jacket relatives, with black bodies Bald-faced hornets have a predominantly white-patterned face. They also have two slanted lines running from their midsection towards their head and on the latter part of their abdomen. The surface of their upper-midsection almost looks triangular from the side.
Size wise the Queen bald-faced hornets are larger than their adult-worker counterparts. Unlike the open cone structure of other stinging hornets, yellow jackets, and paper wasps, their aerial nests are enclosed, grey and paper-like.
An infestation is would clearly be visible with the presence of a nest, which would be suspended above the ground. There will also be worker bald-faced hornets flying around the nest and nearby area if there is an infestation.
Avoiding contact with these insects is key to prevent getting stung. Bald Faced Hornet are not interested in food and are predatory towards other insects and hornets.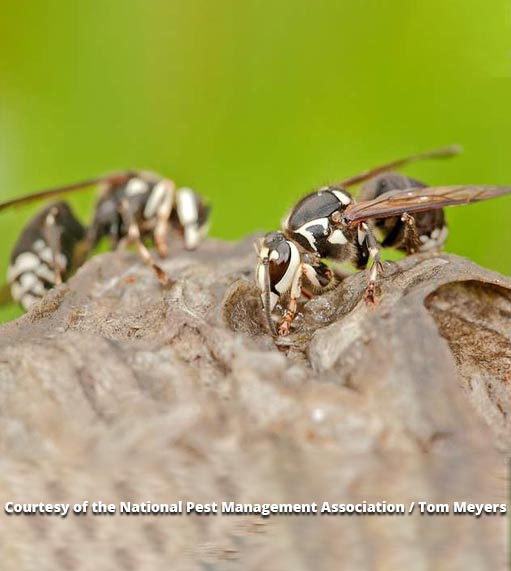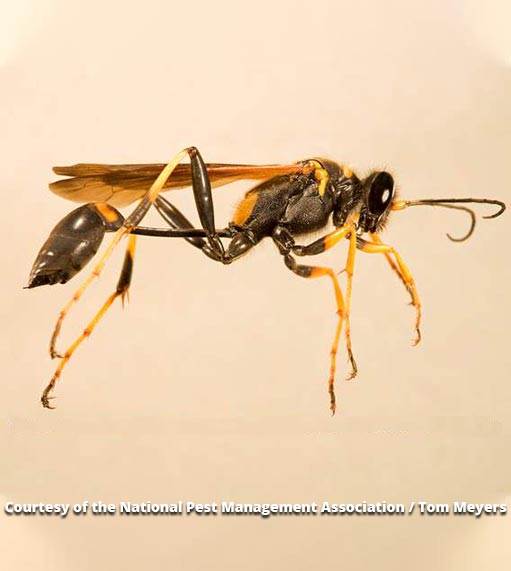 Mud Dauber Wasp
Adult mud daubers feed on plant nectar, honeydew, and body fluids from the spiders they capture. Some species of mud dauber even feed on dangerous black widow spiders.
Mud daubers are solitary wasps, meaning they are not social and do not live in colonies. However, more than one mud dauber nest may be found in some suitable environments. Typical mud dauber nest locations include sheltered sites under eaves, porch ceilings, open garages or sheds, barns, protected building walls and attics.
Nests typically exhibit round holes in them as the wasps emerge. This means the nest is probably old and inactive after springtime.
Mud daubers do not defend their nests. In fact, mud dauber stings are fairly rare. These insects are typically considered nuisance pests, and are actually beneficial as they help control spiders.
Yellowjackets
Yellowjackets are social insects that live in nests or colonies with 300 – 500 in a fully developed nest by September. A yellow jacket born in May will not be around by August. They are most active in the late summer and early autumn when a colony is at its peak. Yellowjackets feed on sweets and proteins, and therefore these pests commonly invade outdoor events.
Yellowjackets can be found anywhere humans are found. They build paper carton nests out of chewed up cellulose, which are usually found in the ground or in cavernous areas such as eaves and attics.
Yellowjacket stings pose significant health threats to humans, as they are territorial and will sting if threatened. They are known to sting repeatedly and can cause allergic reactions. Yellowjackets and other stinging insects send over 500,000 people to the emergency room each year.

Homeowners should remove garbage frequently, keep trashcans covered, and ensure all doors and windows have screens that are in good condition. People should also avoid wearing sweet-smelling perfumes and the scent attracts yellowjackets.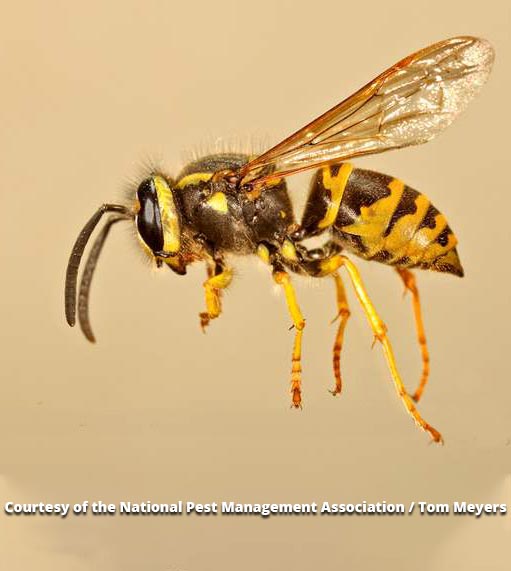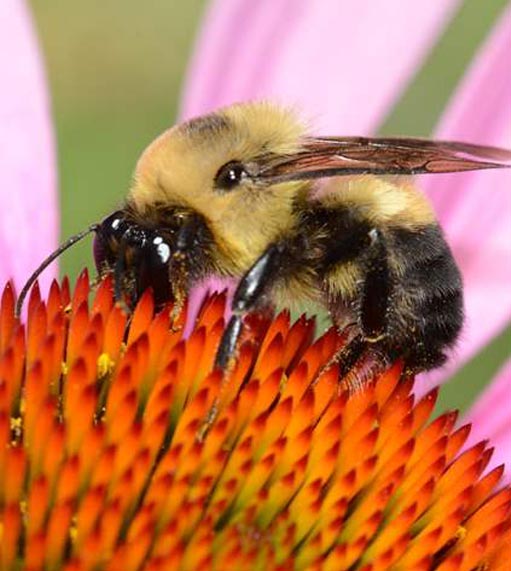 Bumble Bees
The occupant of a disturbed bumble bee nest will buzz in a loud volume. They defend their nests aggressively.
Bumble bees often nest in the ground, but can be found above ground around patio areas or decks. They will sometimes build their nest in soffits of attics.
As part of their aggressive defense of their nests, bumble bees will chase nest invaders for a considerable distance. The bumble bee sting is one of the most painful. Unlike honey bees, bumble bees can sting more than once.
Honey Bees
Bees live in colonies that contain the queen bee, the worker bee and the drone. The worker bee and the queen bee are both female, but only the queen bee can reproduce. All drones are male. Worker bees clean the hive, collecting pollen and nectar to feed the colony and they take care of the offspring. The drone's only job is to mate with the queen. The queen's only job is to lay eggs.
Honeybees are active pollinators, and produce honey which feeds their young in colder months. The honeybee is the only social insect whose colony can survive many years.
Honeybees produce honey from pollen and nectar of the plants they pollinate. They store the honey in honeycombs in their nests. They often build their nests in tree crevices, but will occasionally build nests in attics or chimneys.
Honeybees do sting, but they only sting once. The sting can be extremely painful if the stinger is not immediately removed from the sting. Persons allergic to insect stings will have a more severe reaction.
We prefer not to kill Honeybee nests and we turn those over to our Honeybee professional and/or beekeeper.